Regular price
Sale price
$69.95
Unit price
per
Sale
Sold out
Relax into a deep, restorative sleep with Roogenic Deep Sleep Powder, a berry-infused blend designed with plants native to Australia and science-backed sleep-supporting ingredients.
Bonus
Receive a free 14-day sleep guide with your order.
30 Day Supply
Easy-to-use spoon included for daily servings.
View full details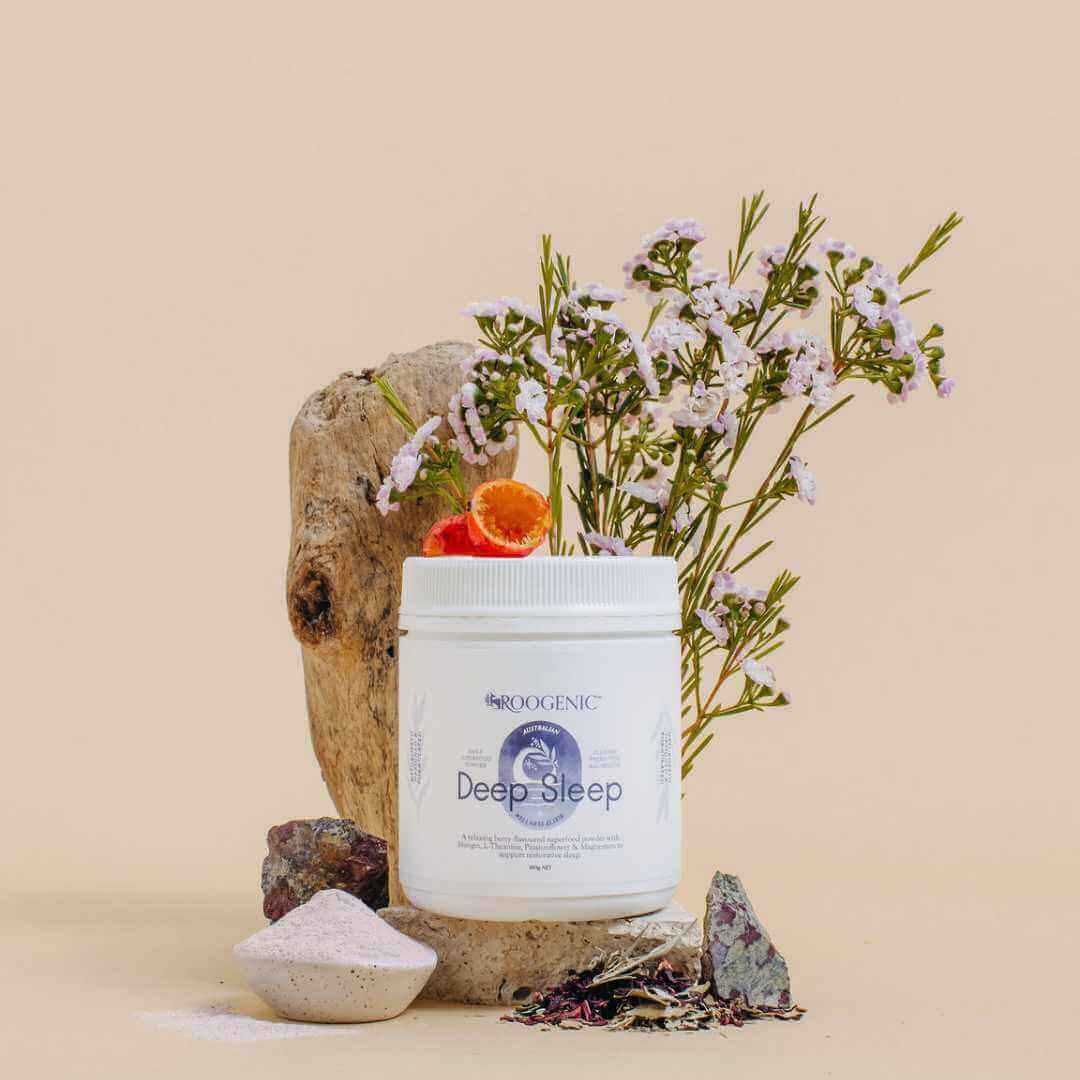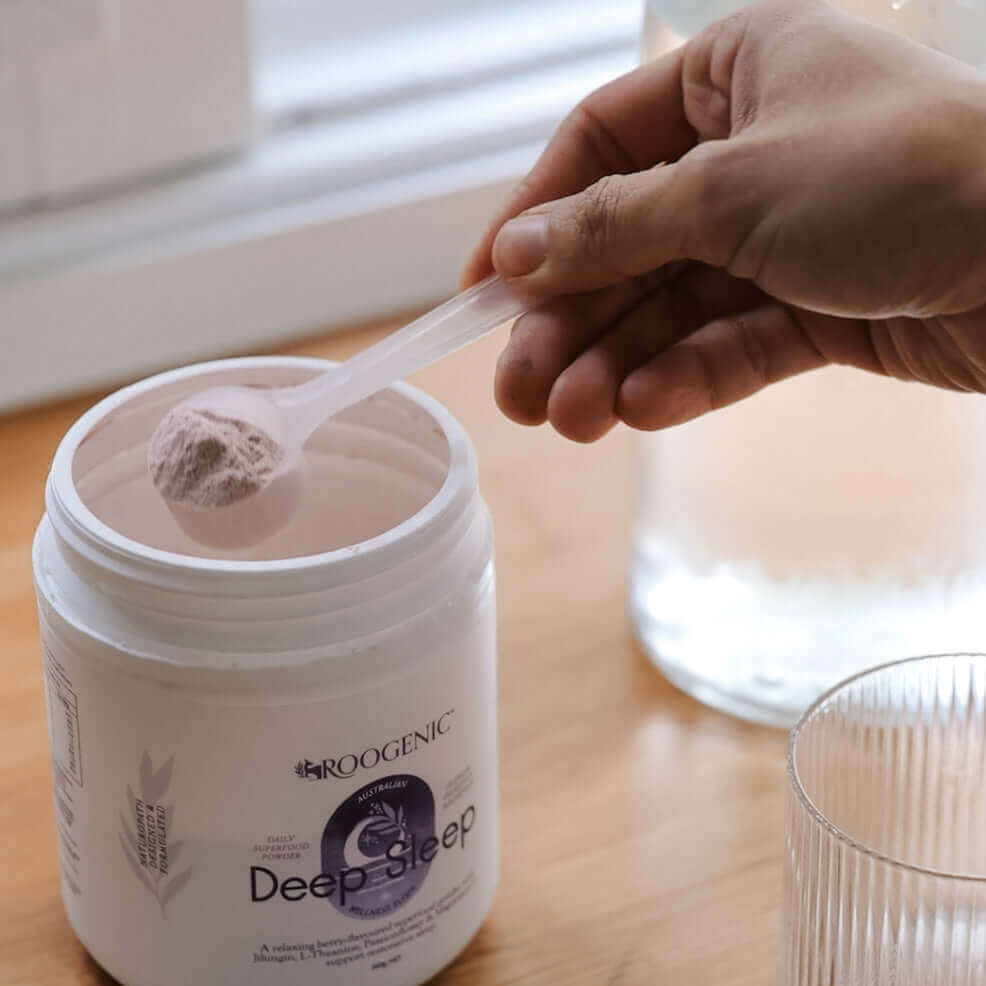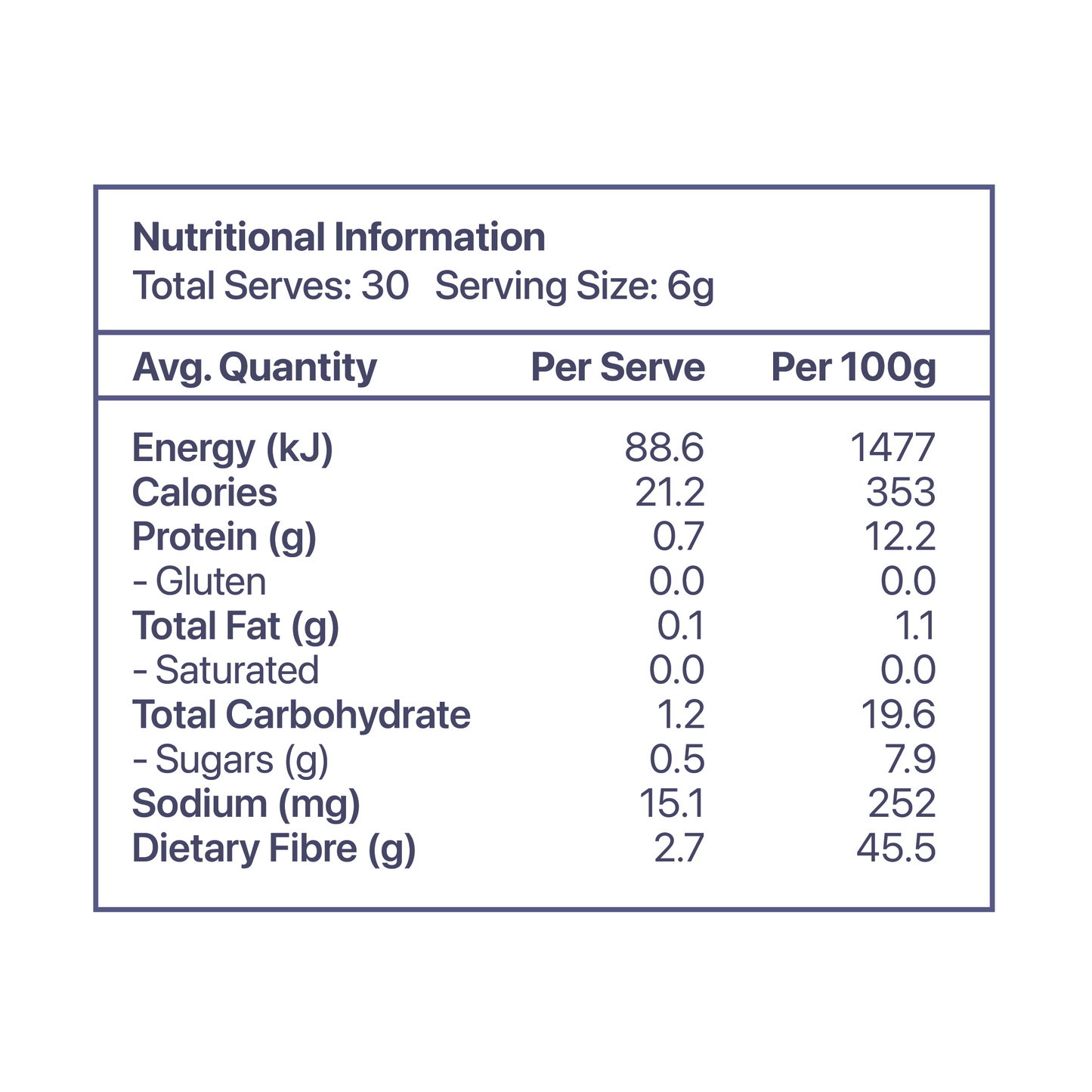 How our sleep powder works
Taste, See, Feel Australia
Relax into a deep, restorative sleep with this berry-infused blend powered by plants native to Australia and science-backed sleep supporting nutrients.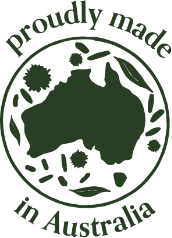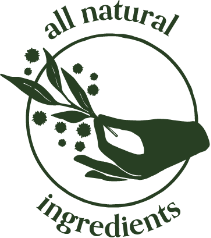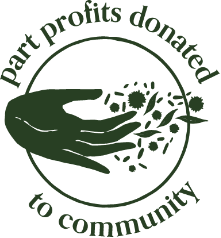 Hear about the powerful healing properties of this blend from our ambassador and farming community leader, Elder Bruno of the Nyul Nyul community.
How to Use
How to Use

Shake or stir 6g (1 scoop) into 200ml of water, chilled tea, smoothie or milk 30 minutes before bed nightly.
83%
would recommend this product
Love this valuable reliable tasty and effective nightime drink to help me sleep. It works!

Since starting this powder drink once a night some months ago it has helped me a lot. I have seen a sleep specialist and he has given me a brain drug that helps but this has enhanced my bodys ability to sleep quite well. I highly recommend this poder and keen to try the new one out too

Deep Sleep

Deep sleep powder does what it says. I have tried other brands but none of these comes close. Every night I have that amazing powder, and every night I sleep like a baby and wake up bright.

Changed our lives

My husband and I love this product. It 100% works 100% of the time. I have in the past so much trouble turning off my brain when I go to bed and now I pretty much fall asleep as soon as I go to bed.

Deep sleep

I am sleeping better now. I have struggled for a long time.

EI

Evelina I.

Verified Reviewer

Best Sleep powder

Omgosh I slept like a baby. Highly Recommend it, if you have problems in Sleeping. Thank you Roogenic xx

Matthew P.

Verified Buyer

Helps to fall asleep

Started using about 3 weeks ago, at least 5 times per week. It definitely makes you feel sleepy in 30-60min. I usually sleep from 9pm to 5am. My problem is waking up at night, anywhere from 1am to 4am for any amount of time, sometimes multiple times. I am still waking at those hours, but I feel it is easier to fall asleep again. The first week I felt like I still needed more sleep and it was difficult to get up. Second week and until now I'm good in the mornings.

DW

Nothing better.

I've been buying the Sleep powder for my son and bought a few too many so decided to take some myself and wow, now it's my nightly ritual. 😴✨

I've been suffering sleepless nights for nearly two years, I think it's due to menapause, although your Menapause Day and Night tea has helped me tremendously, the sleep powder is on another level. I've been taking it with a little soda water. . . delicious… not only does it taste good, but I have the deepest sleeps ( no getting up often in the night) until morning and my dreams are not so intense either!! It's an amazing powder, I'm beyond greatful for this concoction, thank you Roogenic for making this possible! 😀💥
Reviews Loaded
Reviews Added
Regular price

$129.85

Sale price

$129.85

Unit price

per

Regular price

$139.90

Sale price

$139.90

Unit price

per

Regular price

$129.85

Sale price

$129.85

Unit price

per

Regular price

$139.90

Sale price

$139.90

Unit price

per

Regular price

$139.90

Sale price

$139.90

Unit price

per

Regular price

$139.90

Sale price

$139.90

Unit price

per

Regular price

$279.80

Sale price

$279.80

Unit price

per
Frequently Asked Questions
What's the difference between Native Sleep and Native Relaxation?

While we used the same winning formula to help you achieve deep sleep, the only difference is in terms of flavour. Native Sleep has a naturally sweet berry flavour, while Native Relaxation is an earthy herbal-flavoured tea. 

You can review the ingredients for each tea on our product pages.
How long before bed should I drink the tea?

We recommend brewing a cup between 40 minutes – 1 hour before you'd like to go to sleep. Our sleep teas work best when they're incorporated into your nightly wind-down routine, helping your mind and body wind-down and ease into a restorative night's rest. 
Can children drink your Sleep teas?

One of the great things about our products is they can be enjoyed by the whole family, including our sleeping teas.

In the testimonials we received from the Aboriginal Elders - they state that traditionally Jilungin (one of the ingredients in both our sleeping teas) has been given to kids from the age of 5 and up.

We recommend you review the ingredients prior to consumption to ensure you're comfortable with your child consuming the listed ingredients. 
Does it work the first night?

We know everyone's body is different in how they respond to the native ingredients in our sleep blends. Some customers have commented saying they have felt it working from the first night, others have needed more time for their body to respond to the Jilungin oils and other ingredients in our blends. It does vary from person to person. 
Will I wake feeling sleepy?

Our Native Relaxation and Native Sleep tea is designed to promote a deeper, more consistent sleep throughout the night. The blend doesn't contain any sedatives, and as a result of getting a deep night's sleep, we often hear from our customers that they wake up feeling refreshed in the morning.
Can I drink it during the day?

We don't recommend consuming our Native Sleep or Native Relaxation during the day, we wouldn't want you getting sleeping during the day!

A great alternative would be our Native Clarity Tea, it's the perfect tea to enjoy throughout the day!
Is Menopause Night Gluten Free?

Menopause Night contains Oat Straw. Although Oat Straw is Gluten-free there is risk of cross-contamination during the processing of the ingredient from the supplier. Trace amounts of gluten may be present in the Menopause Night tea.